23 Ways to Use CallBoxes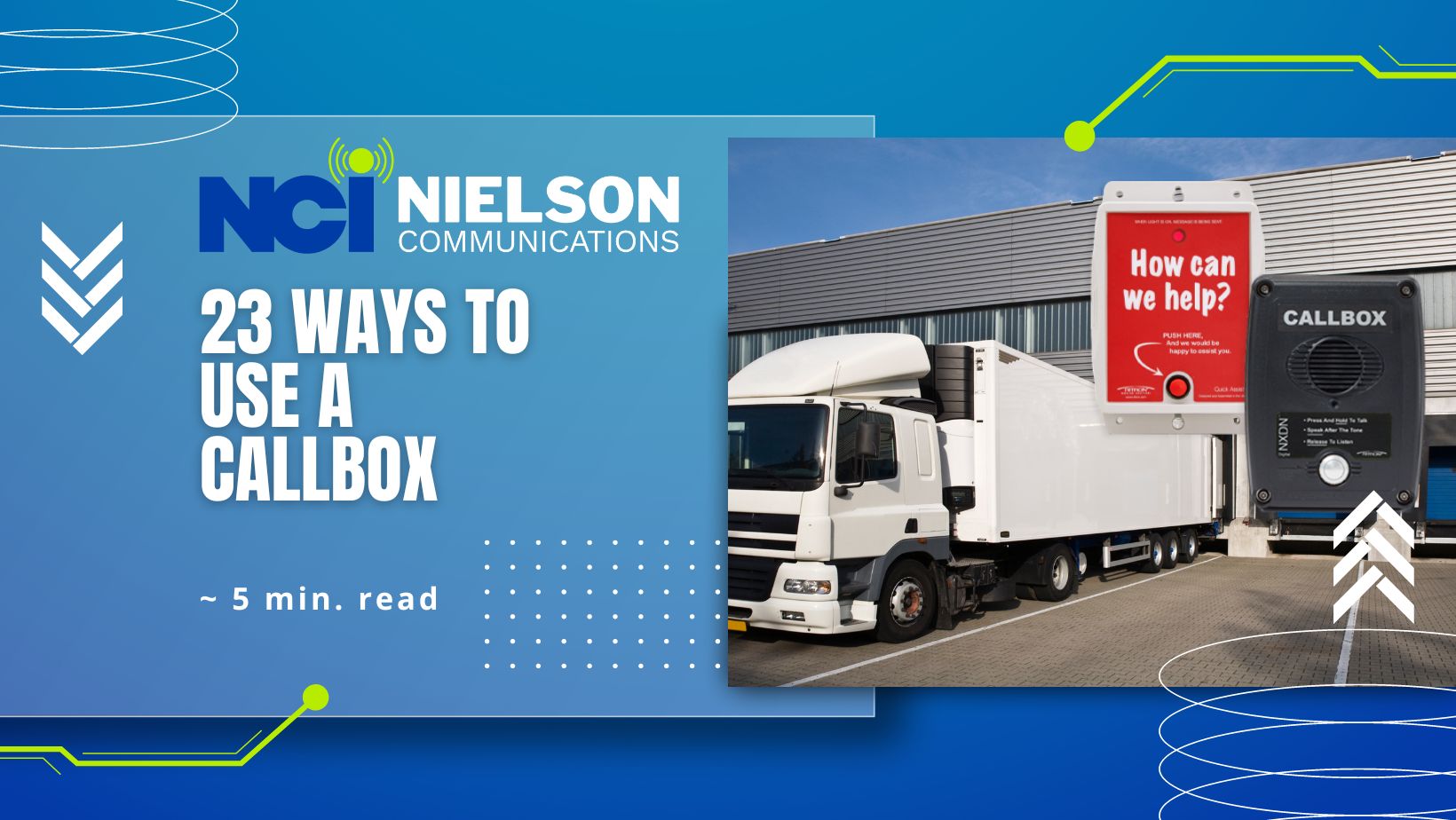 Callboxes are versatile fixed-location PTT (Push-to-Talk) radios that enable seamless communication between individuals with radios and those without. As a trusted dealer of Ritron Callboxes, we present you with an array of possibilities for utilizing this powerful communication solution. Whether you need to enhance access control, improve safety protocols, or streamline operations, Callboxes offer a reliable and efficient communication option. Discover the numerous ways Callboxes can benefit your business or organization.
1. Front Door Access:
Keep your premises secure by granting entry only to authorized personnel.
2. Back Door Notification:
Let your delivery drivers easily contact on-site employees without searching for main entrances.
3. Multi-Story Construction:
Communicate with lift, hoist, or elevator operators during construction projects on multiple floors.
4. Gates and Access Control:
Establish effective communication between drivers and guards or personnel responsible for gate operation.
5. Parking Lots and Garages:
Provide a quick and convenient way for individuals to call for public safety or medical assistance.
6. Hospital Specialty Offices:
Allow entry into offices or enable patients to promptly notify on-site personnel of urgent needs.
7. Walking Paths:
Install Callboxes at intervals to ensure access to public safety or emergency assistance.
8. High School Concession Stand:
Facilitate swift communication between concession workers, coaches, parents, and administration.
9. Camping Sites / Cabins:
Provide communication access to park or clubhouse personnel for a seamless camping experience.
10. Factory Assembly Line:
Line supervisors or employees can request additional parts without interrupting workflow.
11. Grocery Store Pick-Up:
Customers can communicate with store personnel upon their arrival for efficient service.
12. Fueling Stations:
Allow drivers to communicate with fueling station personnel from the pump or LP filling area.
13. Hotel Facilities:
Place Callboxes in pool areas, fitness centers, or conference rooms to quickly contact hotel personnel.
14. Factory/Warehouse:
Install at inventory cage doors or loading docks to alert employees and streamline operations.
15. Will Call Desk:
Enable customers to request assistance or notify employees of their arrival at designated areas.
16. College Campuses or Hiking Trails in Parks:
Provide a means of communication with security personnel in case of emergencies.
17. Golf Course Food/Drink Ordering:
Enhance the golfer's experience by placing Callboxes on tees for food orders from the clubhouse.
18. Truck Scales/Weigh Stations:
Improve communication between weigh station personnel and truck drivers for smooth operations.
19. Farm Operations:
Enable visitors or delivery drivers to locate and communicate with farm personnel efficiently.
20. Valet Parking:
Notify valet drivers when patrons are ready to leave, ensuring a seamless experience.
21. Self-Storage Facilities:
Place Callboxes at the office entrance to maintain prompt contact with employees and potential clients.
22. First-Aid Stations:
Enable immediate communication with supervisors or first responders in case of accidents or injuries.
23. Maintenance Facilities:
Facilitate efficient communication between drivers, mechanics, and supervisors for effective maintenance operations.
With Ritron Callboxes, the possibilities for enhancing communication, access control, and operational efficiency are vast. As a trusted dealer, we offer a comprehensive range of solutions to suit your specific needs. Explore the full potential of Callboxes and transform the way you communicate within your organization. Contact us today to learn more about integrating Callboxes into your business operations.